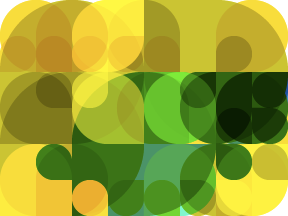 * * *
A message from the good people at WordPress appeared in my mailbox the other day, enumerating the year-end statistics for this blog.  Accompanying it was the above abstraction, a digital rendition of this site's "crunchy numbers" as made by a "helper monkey". Handsome, don't you think?  Puts me in mind of the underrated painter Frederick Hammersley (1919-2009).
Frederick Hammersley, Up Within (1957-58), oil on canvas, 48″ x 36″; courtesy The Pomona College Museum of Art
* * *
But then there's the monkey thing.  Though I'm not averse to the folksy parlance affected by certain corporations, the implication, however facetious, that a monkey could do something like the Hammersley made my thin-skin bristle. Despite what we (ahem) sophisticated types might believe, non-representational art continues to be held in suspicion by a majority of the planet, up to and including segments of that rareified sphere known as "the art world".
In other words, some variation of "My kid could do that" applies. The charge is easy to pooh-pooh, but a degree of chagrin is elicited all the same. As an abstract artist with reservations about the medium's scope and efficacy–read Randall Jarrell's damning (and brilliant) essay, "Against Abstract Expressionism" to sow your own seeds of doubt–I don't entirely dismiss such complaints.  I mean, how likely is it that the following credit would appear in one's e-mail box?
Unknown Simian of Extraordinary Pictorial Acumen, A Gaggle of Privileged Humans And Their Domesticated Wolf (2010), oil on canvas, size–who cares?; courtesy The Museum of Cornpone Afflicted Blog Providers
* * *
I'm forcing the issue.  But clearly WordPress's "helper monkey" knew a thing or two about picture making–about chromatic transparencies, extracting compositional variety from unified elements, rhythm, space and light.  Best to give that person some credit.  The rest of us monkeys need all the help we can get.
Postscript:  The Jarrell essay can be found in this superlative compilation of critical essays.  It's well worth chasing down at your local antiquarian bookstore.
© 2011 Mario Naves